At THE MEDI SPA ON BALMORAL, we know that when you look better, you feel better too.

My array of specialized æsthetic treatments help you appear younger, more rested and polished,

building your confidence and making you feel better and happier.

Relax in comfort, feeling pampered, giving you better hygiene, health and a more attractive

appearance in a safe, clean, and welcoming environment.

You'll feel like royalty at THE MEDI SPA ON BALMORAL. Contact me for an appointment today.

---

Indulge yourself with one of my decadent Spa Packages!
---
Manicures | Pedicures | Healthy Foot Care | Facials | Eyebrow/Eyelash Tints
| Waxing | Body Wraps |Paraffin Wax Dip Treatment|Electroporation| Oxygen Infusion| | Spa Packages|
---
MEDI SPA ON BALMORAL Gift Certificates available
for any single or combination of services.
Gift Certificates are transferable but not refundable.
---
Manicures:
All manicures include filing, cuticle trimming, buffing, hand massage and polish application. All manicures run between 45 to 60 minutes.
Basic Manicure (1 hr.): $40.00 Cdn. + taxes
Our Signature Manicure also includes a scrub, paraffin wax or mask treatment with soothing hand warmers.
Signature Manicure (1 hr.): $45.00 Cdn. + taxes
(includes scrub, paraffin or mask treatment with warmers)
Extra Touches:
French Polish: add $5.00 Cdn. + taxes

---
Pedicures:
All æsthetic pedicures include foot soak, polish removal, filing, cuticle removal; callus removal, buffing, and lower leg massage and
polish application. All pedicures run between 75 and 90 minutes.
Basic Pedicure (75-90 min.): $60.00 Cdn. + taxes
My Signature Pedicure also includes a scrub and paraffin wax or specialized mask treatment with foot warmers. 
Go ahead...pamper yourself!
Signature Pedicure (90 min.): $75.00 Cdn. + taxes
(Includes scrub, paraffin or mask treatment with warmers)
---
Healthy Foot Care: Enjoy being pampered with our basic foot health assessment, which includes an herbal foot soak, an Epsom salt and oil foot and lower-leg scrub, nail cleaning and cutting, skin care, moisturization, massage, stretching and a paraffin wax dip. Feel like you are walking on a cloud!
Healthy Foot Care (no polish, 1 ½-2 hrs.): $100.00 Cdn./hr. + taxes
---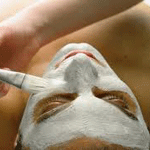 Facials:
In an attempt to offer the best possible service, based on client's needs, through professional assessment and advice, facials may be customized, at the
client's discretion, resulting in a variable price, length of treatment, and frequency of services to achieve desired results. All facials, except in Electroporation,
will include initial professional skin analysis, ongoing inspection and advice, neck, shoulder massage, cleansing, exfoliation, extraction (if required), customized
mask, toner, and moisturizer. All facials may require 1 to 2 hours.
Basic Facial (1 ½-2 hrs.): $75.00 Cdn. + taxes
Signature Facial Balmoral Regal Care: My signature facial includes all the services of our basic facial, along with a peel and serum treatment, all customized
to your unique skin type.
Signature Facial Balmoral Regal Care (1 ½-2 hrs.): $125.00 Cdn. + taxes

Anti-Aging Facials: If you are looking for immediate firming, toning or collagen producing properties, my anti-aging facial is perfect to give you a natural lift
and glow.
Anti-Aging Facials (1 ½-2 hrs.): $110.00 Cdn. + taxes
(specialized for lifting, firming and wrinkle reduction)
Sensitive /Rosacea/Acneic Skin: This specialized facial will help reduce inflammation and begin the healing process to restore your proper pH Balance.
Sensitive /Rosacea/Acneic Skin (1-1 ½ hrs.): $90.00 Cdn. + taxes
MayStar Intensive Acneic Facial Program: 5 sessions. An innovative treatment for oily, seborrhoea, and acneic skin types based on a combination of effective
components and varying applications to produce shine free, comfortable, fresh,  deeply cleansed skin, evenly textured and free from spots and blackheads.  
MayStar's special formulas reestablish the skin's water-oil balance without drying out the skin.
MayStar Intensive Acneic Facial Program (1 ½-2 hrs. each session): $125.00 Cdn. + taxes per session
Rejuvenation Facial: Specialized for skin damaged by environmental factors.
Rejuvenation Facial (1 ½-2 hrs.): $90.00 Cdn. + taxes
Facial Add Ons:
Lip Treatment: $30.00 Cdn. + taxes
Eye Treatment: $30.00 Cdn. + taxes

Whitening Care: Specialized for pigmentations, melasma, etc.
Whitening Care (1 ½-2 hrs.): $110.00 Cdn. + taxes
---
Eyebrow/Eyelash Tints:
Eyebrow Tint: $15.00 Cdn. + taxes
Eyelash Tint: $20.00 Cdn. + taxes
---
---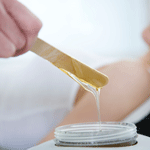 Warm Soft Waxing:
Hair Removal Using, Dermatologist Tested, "Suddenly Smooth" Ultra Sensitive Zinc Oxide Wax from Italy:
Skin is prepared by cleansing the area with a pre-wax solution. Then a warm soft wax is applied with a disposable stick and it is
removed with a muslin strip. An after-care solution is applied to your skin to ease discomfort or irritation that maybe caused by waxing.
This wax system can be used on all skin types, but is particularly ideal for delicate, blemish prone skin on the body, face, and
ultra-sensitive areas.
Eyebrows: $20.00 Cdn. + taxes
Upper Lip: $15.00 Cdn. + taxes
Chin: $15.00 Cdn. + taxes
Full Face: $40.00 Cdn. + taxes
Neck and Shoulders: $29.50 Cdn. + taxes
Chest: $30.00 Cdn. + taxes
Chest and Stomach: $47.00 Cdn. + taxes
Upper Back and Shoulders: $50.00 Cdn. + taxes
Underarm: $20.00 Cdn. + taxes
Arms (Half): $20.50 Cdn. + taxes
Arms (Full): $38.00 Cdn. + taxes
Bikini Line: $25.00 Cdn. + taxes
Upper Leg: $30.00 Cdn. + taxes
Upper Leg + Bikini: $50.00 Cdn. + taxes
Lower Leg: $40.00 Cdn. + taxes
Lower Leg + Bikini: $55.00 Cdn. + taxes
Full Leg: $60.00 Cdn. + taxes
Full Leg + Bikini: $80.00 Cdn. + taxes
Body Wraps:
Body Exfoliation: $75.00 Cdn. + taxes
Essential Back Treatment: $65.00 Cdn. + taxes
Clay/Algæ Firming and Slimming Body Treatment (1 hr.): $85.00 Cdn. + taxes
Therapeutic Warm Mud Body Wrap: Peat hyperthermia therapy is nourishing to the skin and body, astringent, anti-inflammatory, beneficial in stimulating the immune system and helps to kill viruses and bacteria. Research has shown that it balances hormones, regenerates cells, and balances body pH. The skin feels so soft! Benefit as well from the opportunity for deep relaxation, tranquility and listening, if you wish, to therapeutic sounds. Shower away the dirt and debris, then relax and enjoy a cup of herbal tea.
Therapeutic Warm Mud Body Wrap (1 ½ hrs.): $101.49 Cdn. + taxes
---
Healthy Foot Care: Enjoy being pampered with our basic foot health assessment, which includes an herbal foot soak, an epson salt and oil foot and lower-leg scrub, nail cleaning and cutting, skin care, moisturization, massage, stretching and a paraffin wax dip. Feel like you are walking on a cloud!
Healthy Foot Care (no polish, 1 ½-2 hrs.): $100.00 Cdn./hr. + taxes
---
Paraffin Wax Dip Treatment: Revitalize the skin of your hands and feet with the moistening, softening, stimulating and pain-reducing effects of the hot Paraffin bath. Marvellous for rough, dry, cracked, calloused or wrinkled skin and therapeutic in the treatment of rheumatism, osteoporosis, and fatigued or injured body parts. It feels so good and it takes only 20 minutes!
Paraffin Wax Dip Treatment (20 mins. for each body part): $14.00 Cdn./each + taxes
---
Electroporation: The Most Deeply Penetrating Needless Alternative!
Electroporation Technology:
Trans-dermal Delivery System of Mesotherapy Serums, Skin Care Products, Homeopathy, and More
     The device employs clinically proven Electroporation and Electro-osmosis techniques which temporarily alter the cells' plasmatic membrane permeability,
causing the opening of recently discovered intracellular channels. This enables the introduction of active principles via the electroporation unit. The effect of electroporation was first described in the 1960s and was perfected for cellular gene transfer, drug infusion and cancer research in the 1980s.
Electroporation operates by applying pulsed, modulated, non thermal and non-ionized electromagnetic waves (EMW) of hectometric frequency, produced by a low amplitude of intensely alternating current within an application wand. These EMWs produce an alteration of the cellular membrane temporarily.
This alteration provokes a biological "moment" with an electro- rotation of lipids in the phospholipids' bi-layer of the cell membrane, causing formation & activation of aquaporins (AQP or specifically aquaglyceroporins ) or water channels — integral water membrane transport proteins discovered in 1992 by a Nobel prize winner in chemistry, Dr. Peter Agre, MD of Johns Hopkins University, which he shares with Roderick MacKinnon, professor of Molecular Neurobiology and Biophysics at Rockefeller University for their discovery of aquaporins [1]. Aquaporins are water-channel proteins that move water molecules through the cell membrane. The momentary opening of these protein channels enables substances to enter the cells. Electroporation is routinely used in cancer research and drug delivery.
     Electroporation is reversible and temporary because the applied current is pulsed and not constant. The cells return to their normal state once the impulse discharge is stopped. It has an ON/OFF mechanism with no cellular damage.
With the unique natural and homeopathic protocols and equipment, the Electroporator transports hydrophilic solution molecules most effectively through the skin's stratus corneum barrier. Highly effective nutritional, cell building and pain management components are then infused directly into the cells of a uncontrollably chosen depth. You can deliver solutions directly into cells in order to treat most kinds of skin conditions faster and more effectively. The technology further promotes skin metabolism, and enhances skin elasticity. Studies indicate that Electroporation is 500X more effective than other trans-dermal delivery methods such as iontophoresis (micro-currents) or ultrasound. It works with ionized and neutral substances alike.
1 Agre P (2006). "The aquaporin water channels". Proc Am Thorac Soc 3 (1): 5–13. doi:10.1513/pats.200510-109JH. PMC 2658677.
Procedure includes: Cleansing, Dr. Meso Peeling Mask, Electroporation with Mesotherapy Serums, and Dr. Meso Calming Mask.
Electroporation To Face and Neck: (1 hour) $150.00.
Suitable for Lifting, Wrinkles, Sun Damage, Age Spots, Fat Reduction, Acne.
Electroporation To Both Legs: (30 minutes each) $250.00.
Suitable for Cellulite, Varicose Veins, Fat Reduction, Pain Management, Eczema, Psoriasis, Dry Skin, Tissue Tone.
Electroporation To Hands or Feet: (15 minutes each) $125.00.
Suitable for Pain Management, Sun Damage, Age Spots, Dry Skin, Etc.
data:image/jpeg;base64,/9j/4AAQSkZJRgABAQAAAQABAAD/2wCEAAkGBxAQEBQPEA8PExISEQ8PGBAPEBAPDw8VFRIXFhYRFBUYHSghGBolHhYUITEhJiorLi4uFx8zPjMsNygvOisBCgoKDg0OGBAQGzQlICQ2NzQ3Ny43LCwsKywuKywsMSwsLCw1LCwvLDEsNCssLDQsLCwxLTcsNSwrLCwsLCssK//AABEIAOEA4QMBIgACEQEDEQH/xAAbAAEAAgMBAQAAAAAAAAAAAAAAAwQBAgUGB//EAEAQAAIBAgIDCwkGBgMAAAAAAAABAgMRITEEElEFEyIzQWFxcoGRoQYUIzJSsbLB0UJTYpKi8BYkgrPC4UOTo//EABkBAQEBAQEBAAAAAAAAAAAAAAAEAQIDBf/EACERAQEBAAICAgIDAAAAAAAAAAABAgMREjEhUQTREzLB/9oADAMBAAIRAxEAPwD7iAAAAAAAAAAAAAGGzJpVfBfQBGtIWxm+/R2lQwBbekR52KdbWdrFQkoPhL98gFwAAAAAAAAAAAAAAAAAAAAAAAAAAAAAAAAh0p8F9nvJivprwXSBTcgm9vuNFn+2ZaAkTJKbxXSiAkgwOiAAAAAAAAAAAAAAAAAAAAAAAAAAAAAAAAVdNeXaWippbx7AKWT/ANG+t0mWlymrS2+IGspfuxNDI0SW3xNk0B0YPBdCNiOg+CugkAAAAAAAAAAAAAAAAAAAAAAAAAAAAAazdlcBOWzPnIHBPF2b7zMp2ItZGiSyWXhYzdc5G6qNd8WwCbDnMb3F7O5EO+DfALNNauWXfboJipCoS0549JgmAAAAAAAAAAAAAAAAAAAAAAAAAAAjr+q+/uJDEldWApSKG6W6NOgk5t3d7RjjKVs7LZzl48f5XQfnEW8nSSXSpyuvFd56ceZrXVefLu4z3F/+J6X3dT9P1MfxPS+6qfp+p5ujSlOUYQg5zk7KMbXdk23dtJKyeLaLEty9IWdJcq47RuS91xnM+4ovFxz2mnLy307n8T0/uqn6fqb0PKahKSUlUgn9qSjqrps8Ok87pG59aEdedNqGHCUqc0ruyvqye1Y5FSaNnDx30Xm5J7fSYk1D1l3lDcqDVCkpZqlST6dRHS0VYt8xHVs9LIAMAAAAAAAAAAAAAAAAAAAAAAAAAAAUZZtbG/qee8r6N6cKnszceyS+sUd6rhWkvajGfbjF+CRQ3epa2j1Fsjr/AJGpfI9OO9alcck7xY8XSqTpyVSnLVnG9m1dNNWcWuVdqyRl6VUvfVoXet/xVfta93xmfpamPJrsl0CVFVYOum6WN7a2duDrauOrfO3NyXLMtJ0e7tHQrXlbjcVbgvDLG91s25lPJc9/M7S8U1Z8XpU8/q726V6ahLNQjNN5YXlOVk7Y7cdrI6FHfJwp+3OEOxtJ+Bc0ypo0qOG9KtrR1fN98s1rR1tZPC1tbPmtjY28m6OtpMX7CnPw1ffJG51Ji2To1m3clvb2qLei5dpTbsrlnc7iov2lr/met8yFasgAAAAAAAAAAAAAAAAAAAAAAAAAAAAObuk9WpCXNJPsa+rMVqetFx9pOPerG+66wh1mu9f6I6D4EX+GL8DR4PQqE6so0oJOcr+s9WKsrtydnZdjzRJU3Pmm06uippKTvUrpKLdlK+82s+R8prpClCrJwlKEoVKlpRteOMlypp4PJpo188r3v5xLNvitGzeb4vMu1535ygz4T+zaroFSNN1U6U4RajJ0pzbi3q5qUI4LWV9nY7dbyRp8OrLZGEfzNt/CjjVNKrTjqSrTlFtNwUaUFKzur6kU3ik8+Q9F5JQ9HN7alu6C+rOOTymL5O+Pxu54urps7R7JS7Ev9o62jw1YRjsjFdyONpmLa/Al+aTX+J3SNYAAAAAAAAAAAAAAAAAAAAAAAAAAAAAKO63qx66+GRX0Pi49VFndXi/6oe+xW0Rejj1UaPJ6RUhT0yUqlPXgqsm42Us4tqVng7Np27c0jNTdODVk43tLhPQ6TxeTtbkztflxbtjjdeC84q3lbhR5L/YjiVt7j7a7iu4zqTv6Rzes29fafTNMpVKTg4a1TW1ozVGNHe1rp5rkUbr8XLmzt+S8fQX21Jv3L5Hm9WLw143VrrB25sz1Hk0v5ePWqfGzjkzM46jvj1db7v0tV16Rc7or/wBH9TtnGqL0sOtDwbZ2SZSAAAAAAAAAAAAAAAAAAAAAAAAAAAAAKW63Ff10/jRBovFw6kPhRPuxxT61L+5Ehoq0IrZGK8EaPH7rNec1b39aOXUiU61WCtja/tNK/QT7rz9NVedpSw22wt4Ho9z6EYRjTpqHqaPVnUdtaqpqWtOTecFZYcmWFivWpiZvXyizm7up38PI6kFdxVpStrPbZYHrfJl/y8etU+Nnmd1KMYVIuEVGNSjSrakfVg5OSajsi7JpdJ6TyVf8vbZUmvc/mc8ll45Y74+5yWX6/X+OjLjqfW90ZM65ymvS0utL4JHVJVQAAAAAAAAAAAAAAAAAAAAAAAAAAAAAobtv0L61P40YSwXQhu3xaW2cF4mWaPBaVLWqTltqVH+tmaWmVYRVNbzOEfVjXpKrvfNB3VlzfI33S0Z0asoPJtyi+SUW8H8ulFa5f4zUj53lrNravUnUk6lSTlOVryeGCyilyJbOdvFtt+g8kZ8CpHZUUvzRS/xPOOR6fyW0WUKcpyTW+NNJ56sU7PtvLsscc3Ux09OHu77dd8bS60/7cjqHLlxlJ/jfjCR1CJaAAAAAAAAAAAAAAAAAAAAAAAAAAAAAOfuxlTW2tD3SZlmd0VedJbJSn3Qa97RqzRBpWi06sdWpBSWeOae1NYrsKL8n9G9mf/ZP6kWh7pVJSpRk48KEZyaWMtaEna3I+DybToy0h+yrJTeMmnaDSeFs8Tz4PyP5M94t6d834/hrrcitQ3F0eD1lTu1lrylNLseB0StHSHZOyxcY4ys7u2atlj+7m9Cq5PkxjGSs74O+fPgettvt5ySem9V4weyrDxuvmdQ5ddYLmnSl3Ti34XOoctAAAAAAAAAAAAAAAAAAAAAAAAAAAAAFbSlwk9iku9r6EDLGlLJ9JWNFeFKawvC2fq2d7Zmzpz5ZRy5Fttf5+BLcy2BW3ud73hz2jj0X7jehGSvrOOOPBVu/wJbmLgbSyZ0TmxxwOkYAAAAAAAAAAAAAAAAAAAAAAAAAAAAACOvG66MSjc6RV0jR+WPd9AKzMGrlbB4dJjXNG4uaaxLRpOWWW3kMEuiwu77C6aU4KKsjcAAAAAAAAAAAAAAAAAAAAAAAAAAAAAAGspWMtkYFfStHVTNtdDsU3uPH7yr+dnUsYA50Nyor7dR9Mmzo0nZW8QAJgaQZuAAAAAAAAAAAAAAAAAAAAAAAAAAAAAAYkaGAAAAAAAZiSAAAAAAAAAAAAAAAAAAf/9k=
Micro Currents: A Needle-less Alternative with Great Tissue Lifting and Toning Potential
Micro current therapy, commonly referred to as MENS (Micro current Electrical Neuromuscular Stimulation), is extremely small pulsating currents of electricity.
These currents are finely tuned to the level of the normal electrical exchanges which take place at body's cellular level. These currents being more biologically compatible
than any other electrical stimulation device, have the ability to penetrate the cell - as opposed to passing over the cell as other stimulation devices do. It works on
ARNDT - SCHULTZ Law which states that : "Weak stimuli increases physiological activity and very strong stimuli inhibit or abolish activity."

This subsensory current normalizes the ordinary activity taking place within the cell if it has been injured or otherwise compromised. 

The external addition of micro current will increase the production of ATP, protein synthesis, oxygenation, ion exchange, absorption of nutrients, elimination of waste
products, and neutralizes the oscillating polarity of deficient cells. Homeostasis is restored. 

The biologically sensitive stimulation effect of micro current picks up where the body's own electrical current fails, as the human body must adhere to the natural law
of electricity which is : " electricity must take path of least resistance.". Therefore, its electrical current is destined to move around an injury or defect, rather than through it. 

By normalizing cell activity, inflammation is reduced while collagen producing cells are  increased. Healthy cell metabolism creates a healthy, pain free internal environment. 

DOUBLE - BLIND STUDIES LERNER AND KIRSCH, on chronic and acute back pain show the overwhelming effect of MENS over other modalities. 

Internal exchanges within the body have been long understood by medical practitioners. Applying that knowledge has been slow in developing. Doctors and physical therapists all over the world have been using micro current to heal injured muscles, tendons, wounds and a myriad of injuries and ailments for the past fifteen years.
Summary
The MENS unit is biologically more compatible with the body's own electrical system. It is more effective in neutralizing the oscillating polarity of injured cells. Micro Currents
have a positive effect of increasing the availability of ATP, increasing cell permeability, making nutrient transport of waste more efficient, increasing protein synthesis and ion
exchange.
The dual tipped probes, as opposed to single tipped probes, offer mixed frequency with unmatched waveforms creating the crisscrossed pattern of four current emission streams instead of one. This increases the tissue saturation without increasing current to maintain the ultimate healing aspect of low frequency. There are thirty two preprogrammed treatments with the ability to customize your own programs for special situations. The preprogrammed treatments are diverse enough to cover most situations encountered. However, for the purpose of research, or a particularly stubborn case, the ability to set custom programs is essential.
Methods of Application:
Moistened cotton swabs on probe tips are particularly useful in lengthening or shortening muscles and tendons, wound healing, rejuvenating skin, facelifts, body toning,
organ enhancement etc. 

Pads for unattended treatments and pain relief, or over saline saturate gauze on decubiti and wounds. 

Gloves for massage or covering a larger surface area. 

Pads in water for whole body treatment such as : increased circulation, reduced stress, increased intestinal peristalsis, energy, reduced hemorrhoids, gastric symptoms,
and many other problems. 

Physical therapists, always on the lookout for the better equipment, have been among the first in the medical profession to realize the potential for the MENS equipment.
Doctors, concerned about the overuse of pharmaceuticals and more invasive procedures, are having office personnel trained to use the equipment to reduce costs to patients.
Insurance companies recognize and will pay for the therapy. It helps bring back the personal touch to the healing profession. 

Electricity
Electricity is usually measured in amperes. Micro amps used in micro current therapy are one millionth of an ampere or one thousandth of a milliampere. It would take one million micro current machines to light a 40 watt light bulb. This is mentioned in an effort to emphasize the minuteness of the electrical currents used in micro currents therapy. These small, therapeutic doses augment the body's own healing ability with no discomfort to the patient. It eliminates overdoses, over stimulation, misuse, and side effects. It removes much of anxiety of medical misjudgements and guesswork while offering unlimited creative and healing potential.
A brief reminder : Muscle Contraction Physiology
Let's us start with a brief reminder of muscle physiology. Skeletal muscles are a composition of fibres innervated by nerves. Nerve impulses pass through a neuromuscular junction into the muscle fibre. The nerve impulses, or current, continue through the muscle fibre to stimulate the "action potential", triggering a large release of calcium. This initiates the contraction process. The contraction continues as the muscle cell's increased permeability allows sodium ions to enter the cell, and the intracellular negativity is reinstated. 
Energy for this process to occur, comes from the nucleotide compound ATP ( Adenosine Triphosphate ) being reduced to ADP ( Adenosine Diphosphate ). Large amounts of ATP are used up during a contraction and must constantly be replenished. ATP is derived from metabolism of carbohydrates, fats, proteins and oxygen - nutrition. 
When a muscle is traumatized, it protects itself by going into spasm. This decreases blood supply, nutrients, oxygen and ATP, disrupts the sodium pump, and increases waste products within the cell. The electrical current of injured tissue takes on positive charge differing from the negative charge of healthy tissue. Non injured cells try to restore normal electrical function, but the body's electrical system is subject to the natural law of electricity which dictates : "electricity must take the path of least resistance." and travels around the injured tissue.
Normalizing Damaged Tissue
With the addition of external micro stimulation, the damaged tissue recovery period is dramatically reduced.
Tissue pathology begins with injured or otherwise insulted cells that exude certain biochemical substances, such as arachidonic acid, from the lipid portion of the cell membrane into their interstitial environment. These substances are responsible for turning on a complex array of inflammatory and pain - producing responses. The best way to accelerate relief from these responses is to accelerate the intracellular processes that result in the repair or replacement of the injured cells themselves. This involves accelerating the production of ATP 
(primary conveyor of energy within the cell), new protein and new DNA, if new cells are required. The calcium concentration within the cells is known to play a very important role in activating a variety of enzymes which turn on the above processes. It has been shown that passing electrical current across the membrane of tissue cells (such as fibroblasts, which form new tissue in healing wound) in an optimal fashion will do remarkably effective job of opening certain membrane channels to calcium ions. Calcium ions will then proceed to enter the cell from interstitial fluid (where they are more concentrated), and increase their concentration within the cell.
Electrical stimulation of a tissue also results in improved circulation by several mechanisms, which may include the local release of vasodilator substances and decrease in sympathetic vasoconstrictor reflex activity. This can result in :
Reduced pain at injury site
Improved neuromuscular responsiveness
Reduction of inflammatory responses
Increased range of motion and reduction of tightness in disturbed muscle tissue
Reduced recuperation time and less neuromuscular inhibition leading to enhanced contractility of muscle fibres.
ATP
Glucose, upon entering the cell is immediately phosphorized by ATP in the presence of hexokinase and Mg ++. The cell must have a stored reserve of ATP for energy consumption.
The following is only intended to highlight the great importance of ATP < - > ADP + P + reaction for cell life : One mole of glucose metabolized via tricarboxylic  (TCA) cycle or "Krebs cycles" yields a 38 moles of ATP. One mole of glucose metabolized via the anaerobic glycolysis (The Emboden - Myerhof Cycle) yields 2 moles of ATP. 
ATP is the highest energy producing substance for the cell, and is immediately available for the complex endergonic processes of the cells, as established by the genetic code and the RNA (Ribonucleic Acid) structure. 
A study by Cheng et al, 1982, using micro current accelerated ATP generation, protein synthesis, and membrane transport gives an in - depth report. Results on rat skin showed ATP generation increased 500%. Amino acid transport increased 30 - 40%. 
Nociceptive fibres., free nerve endings sensitive to tissue dysfunction, are found in skin, fibrous capsule, periosteum, intra muscular arteries, blood vessels walls and, in abundance, in the blood vessels walls and, in abundance, blood vessels of adipose tissue. These fibres send pain impulses to the brain.
Retonification of the Muscle
The initial phase of treatment to normalize the cell is followed by returning the muscle to its normal shape and position. 
By stimulating the efferent fibres at the origin and insertion points of the involved muscle or muscles, the muscle can gently be coaxed into being stretched or shortened with no pain to the patient. An atrophied muscle can be shortened and toned. A muscle in spasm can be stretched. Anti - inflammatory and pain reducing drugs are either eliminated or drastically reduced.
Chronic Pain
Acute pain is alleviated quickly and chronic pain, with a bit more persistence, is greatly affected with the use of micro current therapy. There is no greater sense of satisfaction than watching a twenty year old injury heal after years of suffering by the patient. No one understands pain better than someone who's been told they must "learn to live with it". After having lived with it, to have it removed is the greatest kindness one can bestow on another. 
A study by Mayo clinic found 24% of chronic pain sufferers to be drug dependent and 42% to be abusers. Between $ 33,000,000 and $ 50,000,000 a year, are spent on medication. Chronic pain is, indeed, a major health problem.
Current Uses
Although it has been primarily used in sports medicine with thigh - clapping enthusiasm from the athletes themselves, sports medicine is only the beginning. It has been widely used in : 
| | | | | |
| --- | --- | --- | --- | --- |
| wound healing    | arthritis | intractable pain | whiplash | TMJ syndrome |
| pre-op surgery | disc disease | torticollis | post operative healing | sinus problems |
| migraines | stroke rehab | soft tissue | injury | acute pain |
| capsulitis | tendonitis | Bell's palsy   | myofacial pain | decubitus |
| synovitis | bursitis | surgical incision | chronic pain | myositis |
| neuropathies | carpal tunnel | abdominal cramps | oedema |   |
Studies are being done in various parts of the world using micro current to help sleep disorders, drug and alcohol rehabilitation, stress, depression, cancer, chronic fatigue, spinal cord injury rehabilitation, and even AIDS.
Decubitus
Decubitus, an indolent skin ulcer, which is the bane of the medical profession, causes great amounts of lost time and wages for the patient.
Ulcers in these patients were chronic and showed little or no improvement in the previous 13 weeks of therapies. In various studies it was noticed that collagen producing cells increased during treatment.
Research on body Electrical Systems
Robert O. Becker, M.D., reports that naturally occurring electric currents are measurable in the body, which send electrical signals through the Schwann and glial cell sheaths surrounding neurons to an area of injury. This process triggers the repair and regeneration process. he found that the human body is normally polarized  positively along the central spinal axis and negatively peripherally. 
Bjorn Nordenstrom, M.D., author of Biologically Closed Electric Circuits : Clinical, Experimental and Theoretical Evidence for an Additional Circulatory System, states that bioelectricity is conducted through the micro capillary circulatory system in the body. When injury occurs, a positive charge builds up in the area of injury and sets up the voltage potential difference which serves as biological battery waiting for the switch to be turned on. The bioelectricity is then switched on by a change in the electrical insulation properties of the capillary membranes. As they become less permeable to the flow of ions and become more electrically insulated, the bio electric flow of energy is forced to take path of least resistance, which is through the bloodstream. Thus the bio electric switch is through the bloodstream. 
---
Oxygen Infusion: A Needless Alternative with the Rejuvenating Benefit of Oxygen!
Maya Beauty Engineering Oxygen Infusion System with Spanish"BCN" and Italian"Guna" Homeopathic Mesotherapy Serumsfor Health andÆsthetic Intense Tissue Rejuvenation:
Full Facial or Specific Body Part with Mesotherapy Serums (1 ½-2 hrs.): $150.00 Cdn. + taxes. withthe addition of non-cross linkedhyaluronic acid: Additional $50.00 + taxes
Body (2 hrs.): $300.00 Cdn. + taxes
MBE Oxygen Infusion with Serums without Full Facial
(45-50 min.): $85.00 Cdn. + taxes
With the addition of non-cross linkedhyaluronic acid: Additional $50.00 + taxes
MBE Vacuum Massage for Firming/Cellulite (Not suitable for fragile skin):
Face (30 min.-1 hr.): $85.00 Cdn. + taxes
Body (1 ½-2 hrs.): $200.00 Cdn. + taxes
---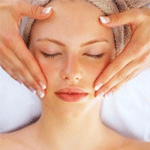 Spa Packages:
Balmoral Express Spa Package: Express manicure, express pedicure and mini facial with brow clean-up – 3 ½ hours-4 hours  $120.00 Cdn. + taxes
Balmoral Beauty Boost: Customized facial with brow clean-up and relaxing pedicure –  3 hours $150.00 Cdn. + taxes
Balmoral Princess Package: Customized facial and shiatsu or relaxing body massage (or oxygen infusion treatment)  –  2 ½ hours - $200 Cdn. + taxes